Like your old fax machine? Keep it, use it - this service allows you to send and receive faxes from by email or from your fax machine - whichever is most convenient.
Versatile, Convenient, Effective.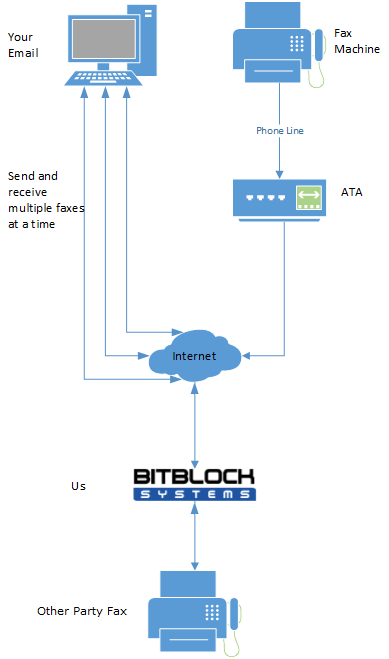 So I can send faxes from a fax machine and receive them by email?!
The only downside of FlexFax Standard is that you can't use your fax machine to send a fax. When you have a hard copy (non-digital file) that needs to be faxed, you have to scan it to your computer so you can fax it out. If you need this function occasionally great - if not, this problem is solved with FlexFax Plus!
With FlexFax Plus all of your faxes are received by email so no one will ever get a busy signal, and faxes can be sent by email (so you can send from anywhere) or from the fax machine (so you don't have to scan a document to your computer if you want to send a fax).
All you need is an ATA
If you are switching from a regular fax service you will already have a fax machine, this means all you will need is an ATA to make your old fax machine signals compatible with our network.
This service, although more versatile is still less expensive than analog fax services!
Regular fax lines are expensive and lack features. FlexFax Plus is the best way to get as much as you can out of your fax service.
BitBlock recommends FlexFax Plus to any business who wants to save money and improve convenience by receiving faxes via email but who still wants to have the ability to send faxes from an actual fax machine when required. This type of service is often most desirable to companies who must fax signed copies of documents to other parties - with FlexFax Plus they do not need to scan the signed copy of the document back onto the computer, they can fax it straight from the fax machine.
FlexFax Plus Plans
| | | | |
| --- | --- | --- | --- |
| Plans | FFS+450 | FFS+1350 | FFS+4050 |
| Send and Receive Pages | 450 | 1350 | 4050 |
| Send Minutes | 240 | 240 | 240 |
| Monthly Price | $44.95 | $59.95 | $135.95 |
FlexFax Specifications
| | | |
| --- | --- | --- |
|   | FlexFax Service | Analog Fax Service |
| Plan | FlexFax Plus | Traditional Phone Line |
| Recieve Multiple Faxes at a time? | Yes | No |
| Send Multiple Faxes at a time? | Yes | No |
| Send from Fax Machine? | Yes | Yes |
| Recieve from Fax Machine? | No | Yes |
| Send from Email? | Yes | No |
| Recieve From Email? | Yes | No |
| Need a Fax Machine? | Yes | Yes |
| Need an analog line? | No | Yes |